Better weather and improved moods are some of the changes you may expect during springtime. Since the most popular season for real estate is almost here, a lot of opportunities and work might be expected as well as it gears towards more listings, viewings, open houses, and closed deals. When these opportunities come, what can agents expect? Surely, most agents will be busy doing prep work, updating strategies, and almost no time to rest to get ready for a busy season ahead.
This is one of the reasons why you should hire a virtual assistant. We've also partnered with one of our clients for an informative webinar on how they utilize their VA. If you are planning to hire or you already have one, this webinar is a perfect fit for you.
WEBINAR WITH VIRTUDESK CLIENT
Utilizing virtual assistants to get more listings is the highlight of our webinar with one of our clients, Amanda Miller. Click the link below for the replay of this amazing webinar.
---
INMAN CONNECT NEW YORK 2020
VIRTUDESK was one of the exhibitors at the Inman Connect New York 2020.
Inman Connect brings together more than 4,000 top-producing agents and brokers, CEOs of leading real estate franchises, MLS and association leaders, tech entrepreneurs and marketing executives to network, make deals, explore current trends and technology and learn how to embrace and leverage change.
---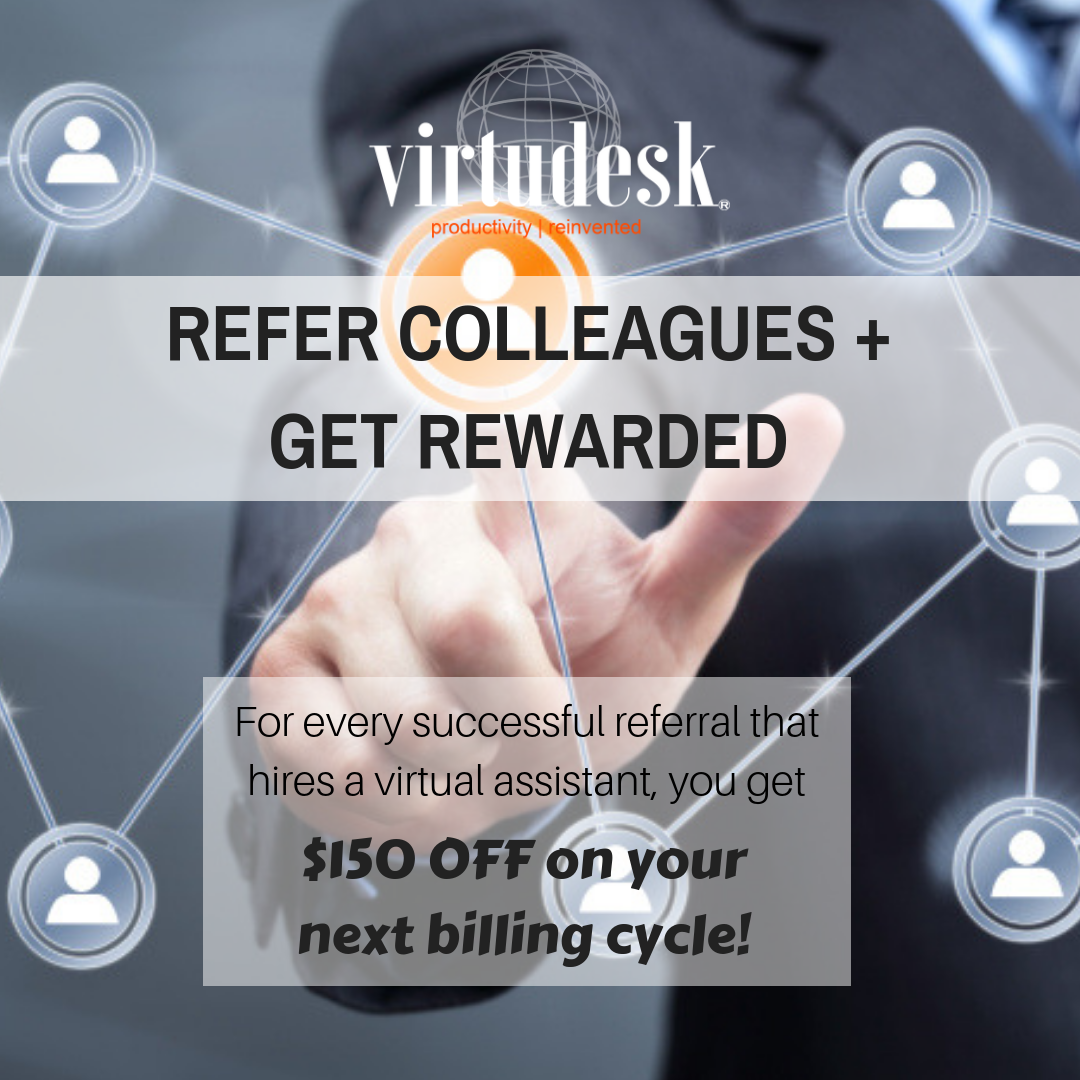 REFERRAL PROGRAM
We love to reward our clients with bonuses and we love when our clients love us. So, if you know somebody who can benefit from our services, simply provide their name and number to our marketing department and once that person signs up for our services, we issue you $150 towards your next invoice.
*applicable to existing clients only
LENDER PARTNERSHIP PROGRAM
This program is the solution to the Realtors who were asking how they can save on the cost of a VA. This allows a Realtor to partner up with their Lender and split the cost of the VA.
Simply contact our office and provide the lender information, the share of the cost and lender's credit card number and we will handle the rest. Your lender can also benefit from your VA as your VA will be reaching more buyer leads.
---